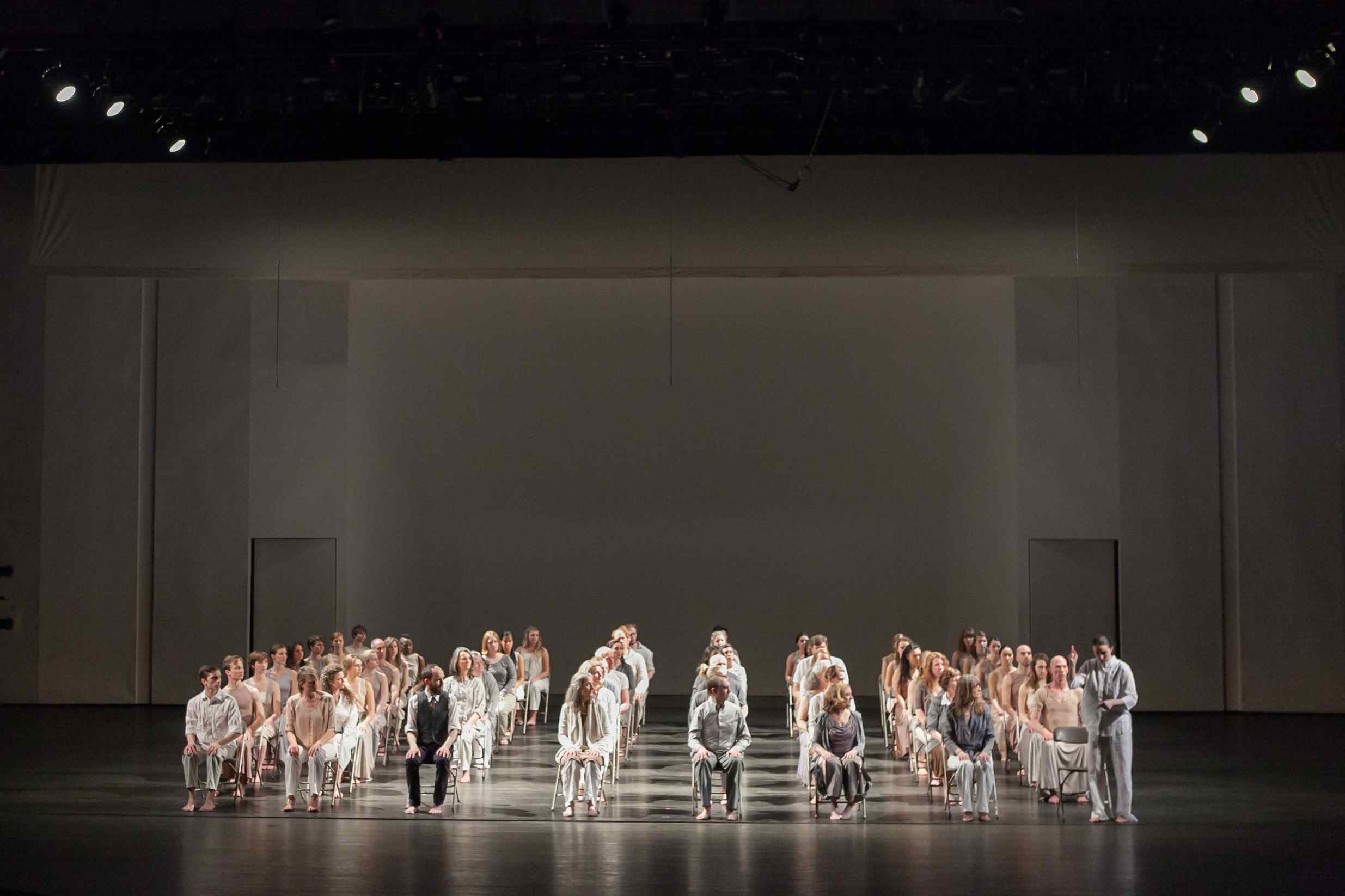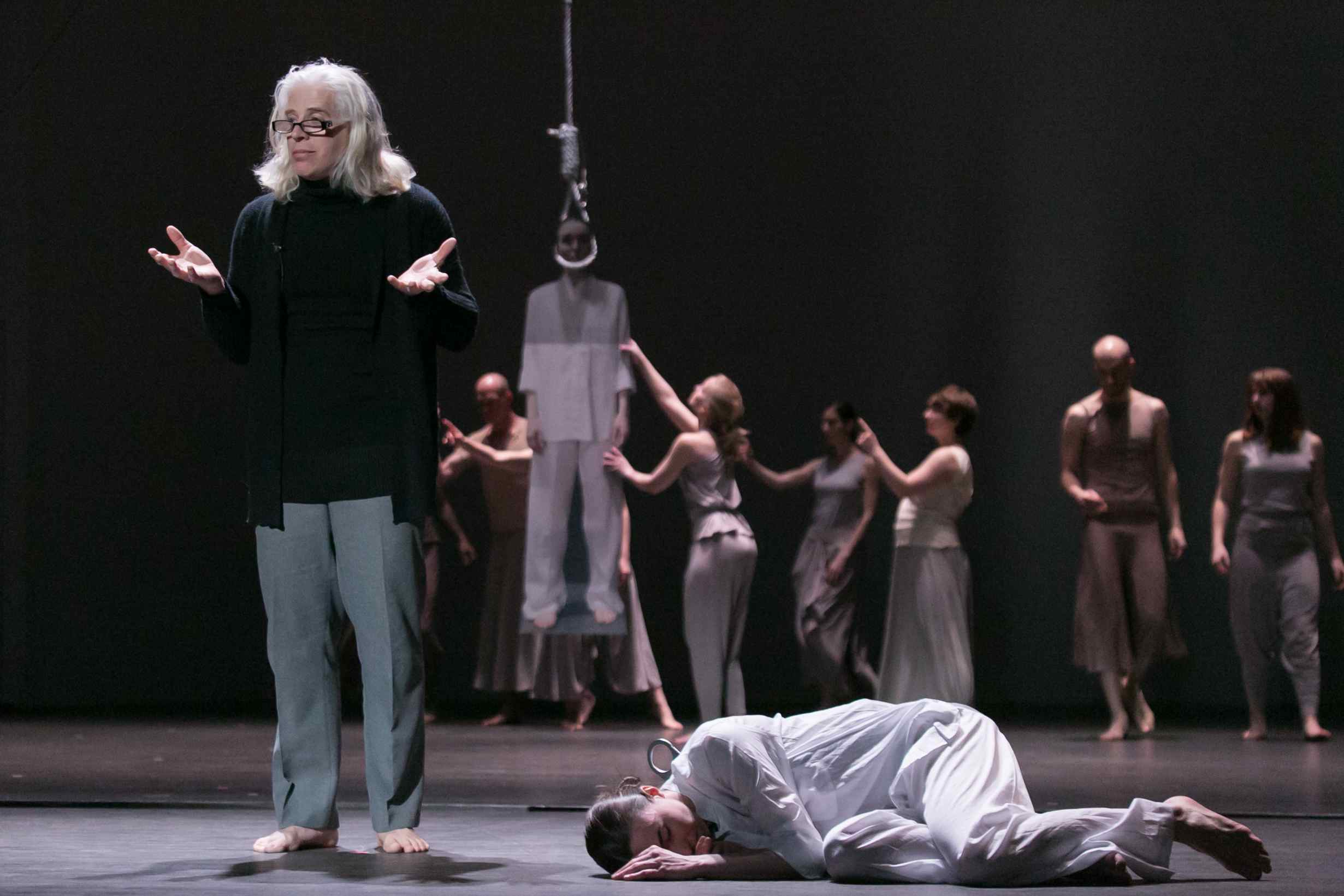 About
The Student is a large-scale, epic community-inclusive, music and dance theater performance event that featured more than 170 dancers, actors, and vocalists.
A physical, emotional, and psychological study of human experience, The Student focuses on the themes of learning, knowing and being, taking inquiry into the quality of relationship that one has with oneself, and spiritual themes of descent, awareness, and return home.
This program is available for residency.
Media
Press
"The Student", an epic work in two parts, addresses themes that delve into the study of the nature knowledge—what it is, how it is acquired, and how to extract useful wisdom within the cacophony of one's own mind and environment. More specifically, it addresses the acquisition and/or development of spiritual knowledge, not necessarily religious, but spiritual in terms of the cognitive means to understand oneself, one's place in the world and whatever world may (or may not) lie beyond the one we know. It paints a vivid portrait of an intensely personal endeavor that is, more often than not, overtly confusing, exasperating, utterly terrifying, but also at times, joyous. It is epistemological warfare between body, mind and spirit....Perhaps what ultimately makes "The Student" so impressive is that, as with most of the work within Voskuil's oeuvre, it contains a drive and a wisdom that can never be taught, but can only innately exist within an artist. Her work is so often felt deeply, viscerally and spiritually. This piece is evidence of the further development of her distinctive system and usage of metaphor, and how she is deftly translating her vision and thought process for the audience. It culminates as nothing less than a powerful new creative language of mythic expression."
Full review here
- johnckoch.com (audience review)
"The evening-length work makes an impression....The Student" stands out for its intelligence and questioning spirit...strong conceptual vision....a fascinating journey through its creator's mind."
- Star Tribune
"A gorgeous sense of flow unfolds as movement ripples through the crowds onstage...as if controlled by a force far bigger than them. And they are – Voskuil, despite her slight frame, is a powerful presence with a command of how to move large groups of people for her creative ends."
- Star Tribune
"With tremendous stamina and exactitude Paul Herwig and Chris Conry performed rapid-fire, repeating inquiries on: seeing, knowing and not knowing; the occurrence of now in space and time; whether the piece is ending or continuing."
- mnartists.org
"...various choirs...beautifully performed Janika Vandervelde's religious choral music."
- mnartists.org
"There were gorgeous, often-disturbing stage pictures..."
- mnartists.org
Participant Responses
"You possess gifts beyond art and choreography; your gifts include the rarity of inspiring and uniting people. Thank you for the honor of inviting me..."
"One of the many aspects I value about your approach to choreography is how you embrace and indulge in the process and truly lead every dancer into themselves and into community with each other."
"I wanted to let you know I was really struck by The Student. Seeing the beauty of several communities coming together was a powerful experience. I was also struck by your vision, your design, and your process."
"I want to let you know how much I appreciated this process we all went through together. It was transformative for me in so many ways. The experience reminded me of the beauty of creating collectively and the vulnerability that is required to let people bear witness to what was created."
"You create in a very vulnerable way...You create from your deepest self. That's always risky, because it sometimes can be hard for people to "understand" and feel comfortable with the result."
"I want to say how grateful I am to have been able to participate in that performance. I feel that I grew and learned a lot on a personal level, but I also so enjoyed the environment and dynamic that you were able to create. Thank you so much for so mindfully crafting not only an incredible performance, but a deeply moving performing experience."
"You hold space for people to inquire into their own minds and into their own relationship with the work, the outcome is that the work becomes personal to each performer involved and that there is an aspect of inquiry and exploration on the stage."
"The whole rehearsal process was such a gift...thank you." "It seems that things are more like me now, That I can see farther into paintings." ~Rilke
"It was an amazing experience!"
"I left thinking; thinking about my life and what goes on in my head."
"…simply transported by some of the imagery. It resonated deeply with me."
"It was personally meaningful and healing for me to dance it [movement section] because of the professional healing work I do…"
"…[the] open stage was given to us with a loose structure and inspired the questions of "What are we really doing here?" and "What is this?" The experience of discovery on the stage has stuck with me after the show with an unexpected intensity."
"The marching scene and the shooting and crying scene had me at the edge of my seat and about to cry because of the way they moved me."
"It was a gift to everyone present to have the choir walk through us at the end. I felt blessed to be in the midst of such beauty."
"It was personally meaningful and healing for me to dance it because of the professional healing work I do and also to honor my own continuous healing process."
The Student | 2014
Presented by The O'Shaughnessy at St. Catherine University as part of the Women of Substance series, St. Paul, MN
2014 Nominated for Minnesota Dance Sage Award for Outstanding Performance
Created and Written by Vanessa Voskuil
Original Choral Compositions - Janika Vandervelde
Original Compositions and Sound Design - Jesse Whitney
Additional Sound Design and Songs - Vanessa Voskuil
Lighting Design - David Ferri
Costume Design and Coordination - John Brinkman, Vanessa Voskuil, and the Cast
Dramaturge and Documentarian - Alexandre Spinelli Ferreira
Community Liaison - Chris Conry
Performed by
John Agurkis
Anna Andaházy
Diane Anderson
Lindsay Anderson
Nora Anderson
Emily Ban
Emma Barber
Katy Becker
Brianna Belland
Jeffrey Berger
Maggie Bergeron
Carolina Borja
Robert Borman
Florence Brammer
Chris Conry
Suzanne Costello
Hilde De Roover
Erin Ditmarson
Beth Erickson
Jessica Fiala
Christian Finch
Ali Franklin
Betsy Gaasedelen
Elana Gravitz
Angela Hedlund
Diane Hellekson
Paul Herwig
Yumi Inomata
Neal Jahren
Jim Lieberthal
Carissa Logghe
Jennifer Mack
Ifrah Mansour
Virginia McBride
Ashley McDonell
Patricia McManus
Megan Mullowney
Jesse Neumann-Peterson
Amy Olson
Andie Olthoff
Rebecca Tanner
Denise Tennen
Léa Thomen
Hannah Saatzer
Fumiomi Samejima
Eve Schulte
Scott Stafford
Kathy Thompsen
Vanessa Voskuil
Timmy Wagner
Indigo Weappa-Girgen
Jessica Spring Weappa
Kristine Zappa
Perpich Center for Arts Education Dance Ensemble Directed by Mary Harding
Gabrielle Abram
Jessika Akpaka
Alyssa Brown
Ben Cochrane-Cole
Libby Herrmann
Liam McLaughlin
Grace Gerloff
Ellie Quiring
Chayse Erickson
Brynn Sherman
Cooper Smith
Brytani Witt

St. Catherine's University Women's Choir
Conducted by Patricia Connors
Hamline University Women's Chorale
Conducted by Kathy Thompsen
Perpich Center for Arts Education Choir
Conducted by Janice Hunton
Support
The Student is generously supported by the Jerome Foundation, the Sewell Family Foundation, the Moore Family Fund of the Minneapolis Foundation, and is underwritten by the American Composers Forum's Live Music for Dance Minnesota program in partnership with NewMusicUSA, with funds provided by the McKnight Foundation and the Andrew W. Mellon Foundation. Vanessa Voskuil is a fiscal year 2013 recipient of an Artist Initiative grant from the Minnesota State Arts Board. This activity is made possible by the voters of Minnesota through a grant from the Minnesota State Arts Board, thanks to a legislative appropriation by the Minnesota State Legislature; and by a grant from the National Endowment for the Arts.
Downloads